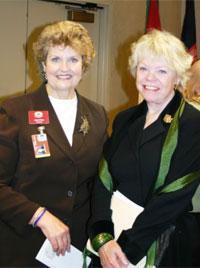 Jenni Prisk, VOW President (left) and
Anne Hoiberg, former VOW Board
Member, at the International Women's Day
breakfast at the Joan B. Kroc Institute
for Peace and Justice, March 8, 2006.
Voices of Women is a group of peace-minded people who share a common commitment to education on international issues and U.S. foreign policy.
We believe that women must be active participants in the formation of global policies. Our goal is to partner with other women around the world in this endeavor, with the full belief that we can make a difference.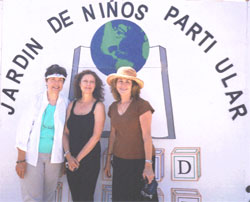 On left, former VOW Board Member Edith Fine, with
Susan Sarandon and Judith Josephson at
Responsibility Inc. event, in Tijuana. Edith and
Judith are writing a book about the organization's
educational programs for children who lived at a
garbage dump.

Voices of Women is a tax exempt 501(c)3 organization.